I LOVE Hybrid scrapping and admit that most of my projects are hybrid because I love the ease, flexibility and availability of digi products - I mean there is nothing I love more than kicking back and going shopping on Saturday and Sunday mornings in my robe and slippers with a mug of hot coffee (online obviously). It's incredible to have instant access to millions of scrapping products, I'm no longer limited to whatever is in stock at the craft store or waiting on my online order to arrive, not to mention the variety of digi!! Most of my hybrid projects are really heavy on the traditional scrapping methods - I love using digi products but scrapping the traditional way (cutting, pasting with
real
scissors and glue). I'll dabble with digi scrapping sometimes and have learned a few techniques to get me by, but I am so envious of all those amazing digi girls that can do it all! Well....today I got a great gift and I am inspired to get my digi on! I got "
Digital & Hybrid Scrapbooking & Card Making with Photoshop Elements" by Patty Debowski
.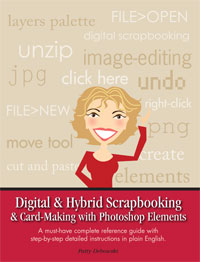 I am in love with this book!!! I've had Photoshop Elements for sometime now but have been intimidated by it and therefore never use it...FINALLY - something that makes sense of all the gears, buttons and gadgets!!! If you are interested in learning digi or adding it to your traditional scrapping or card making - seriously, check this book out!!!!
On another note, I have been busy with some new projects but can't show them yet - more on that a little later ;)
I wanted to share some of my favorite places to snag FREE digi kits and goodies:
(Happy Downloading!)
Designer Digitals
(you may have to register at their site to have access to the freebies)
Happy New Year!!
~Cindy